Twenty Years On: Histories of Homosexual Law Reform in New Zealand
A publication of the Lesbian and Gay Archives of New Zealand | Te Pūranga Takatāpui o Aotearoa (LAGANZ).
Order Form - Copies available for $20 from LAGANZ.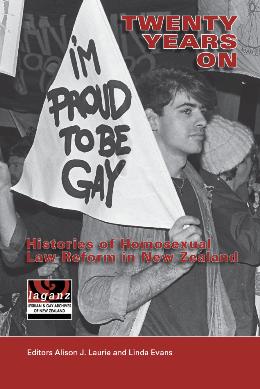 Edited by Alison J. Laurie and Linda Evans this book contains an impressive collection of articles on homosexual law reform.
Former MP for Christchurch Central Tim Barnett has written a chapter titled "20 years back, 20 years on" and MP Maryan Street's chapter is titled "Homosexual law reform - the aftermath".
Social historian Tony Simpson's chapter, "Looks like it's open season on queers", focuses on the Hagley park killing of Charles Aberhart that led many New Zealanders to support homosexual law reform.
An impressive photo essay on the 1985-86 campaign by David Hindley "Shooting from the inside" is featured, along with an overview of the 1985-86 Homosexual Law Reform Campaign by Alison J. Laurie. Phil Parkinson has written an analysis of the role of AIDS and homosexual law reform: "Legitimation through disaster? – AIDS and the Homosexual Law Reform Campaign, 1983-1993".
Also included are an overview of the coalition supporting reform by Tighe Instone, "The Coalition in Support of the Homosexual Law Reform Bill: A Wellington Lesbian's Point of View"; a chapter on children's views of sexual orientation at the time of reform by Miriam Saphira, "How HUG Helped my Doctoral research"; plus an examination of a recent legislative issue by legal expert Elisabeth McDonald, "Discrimination and trans people: The abandonment of a timely law reform initiative". Unique chronologies for homosexual law reforms in New Zealand and for the 1985-86 campaign in particular are also a feature of the book.
The book was jointly launched by Bill Logan and Glenda Gale, activists during the 1985-86 Homosexual Law Reform (HLR) Campaign at a function on Friday 27 March, at the Alexander Turnbull Library, National Library of New Zealand, Wellington.
Order Twenty Years On
Twenty Years On: Histories of Homosexual Law Reform in New Zealand is available for $20 plus postage and packaging directly from LAGANZ.
To order copies please download and complete the order form and send details of your payment by post or by email to board@laganz.org.nz. The form is available in both Word and Adobe PDF formats:
Please send the form and payment to the address below:
Attn: Treasurer
LAGANZ
PO Box 11-695
WELLINGTON
OR you can pay directly into our bank account (details in the order form) and email details to board@laganz.org.nz.
We will send copies as soon as payment has cleared in our bank account.