Poster Index Cards Digitisation - Volunteer Activity
Help LAGANZ digitise 700 typewritten index cards describing our poster collection by correcting the optimal character recognition (OCR) text. It's good fun!
What's Involved
As part of our digitisation initiative we have scanned 700 posters index cards as a pilot initiative to assess how much effort and cost is involved in digitising our 7000+ typewritten index cards.
Digitisation is important to enable online database access to the descriptions of items in our collections; at the moment researchers must visit the Archives in Wellington or ask a curator to search for them in the card catalogue.
We plan to apply for funding to digitise all 7000+ index cards.
We are using an online tool (website) called From the Page to make it as easy as possible for volunteers to type corrections of the transcription (OCR'd) text errors as they view the picture of each scanned index card.
We'd love it if you could get involved!
Update at 28 June 2020: We have largely completed the transcription of these index 700 posters index cards. Thanks to all the volunteers who helped! There is a re-formatting step required now which is best explained by Gavin Hamilton in person. It involves moving some elements in the transcribed text onto single lines. A bit repetitive, but highly useful for the next stage of mapping the transcribed text to fields in our (future) online digital collection management system.
Contact Gavin
if you'd like to help with that task.
Key Steps to Get Involved
Sign up to create a transcriber account at From the Page: https://fromthepage.com.
Find the LAGANZ Finding Aids collection (or project) in From the Page at: https://fromthepage.com/laganz/finding-aids.
Select a group of index cards to start transcribing eg https://fromthepage.com/laganz/finding-aids/laganz-posters-index-cards-201-300.
Look for a card that hasn't been started. You'll see a "This page is not corrected, please help correct this page" message. Click on the link to "help correct" a page.
Read the transcription instructions (at bottom of the Correct tab).
Have a go!
Each card you correct will be checked by someone else and you can leave Page Notes if you want to draw something to our attention.
Give LAGANZ Trustee Gavin Hamilton some feedback eg on how you found using the tool, the instructions provided and how long it took you on average to complete a card. This will help inform our funing applications.
Stages of Index Card Image Transcription/Correction
This might help you visualise what we are trying to achieve, with your help!
We have loaded images of posters index cards in From the Page ...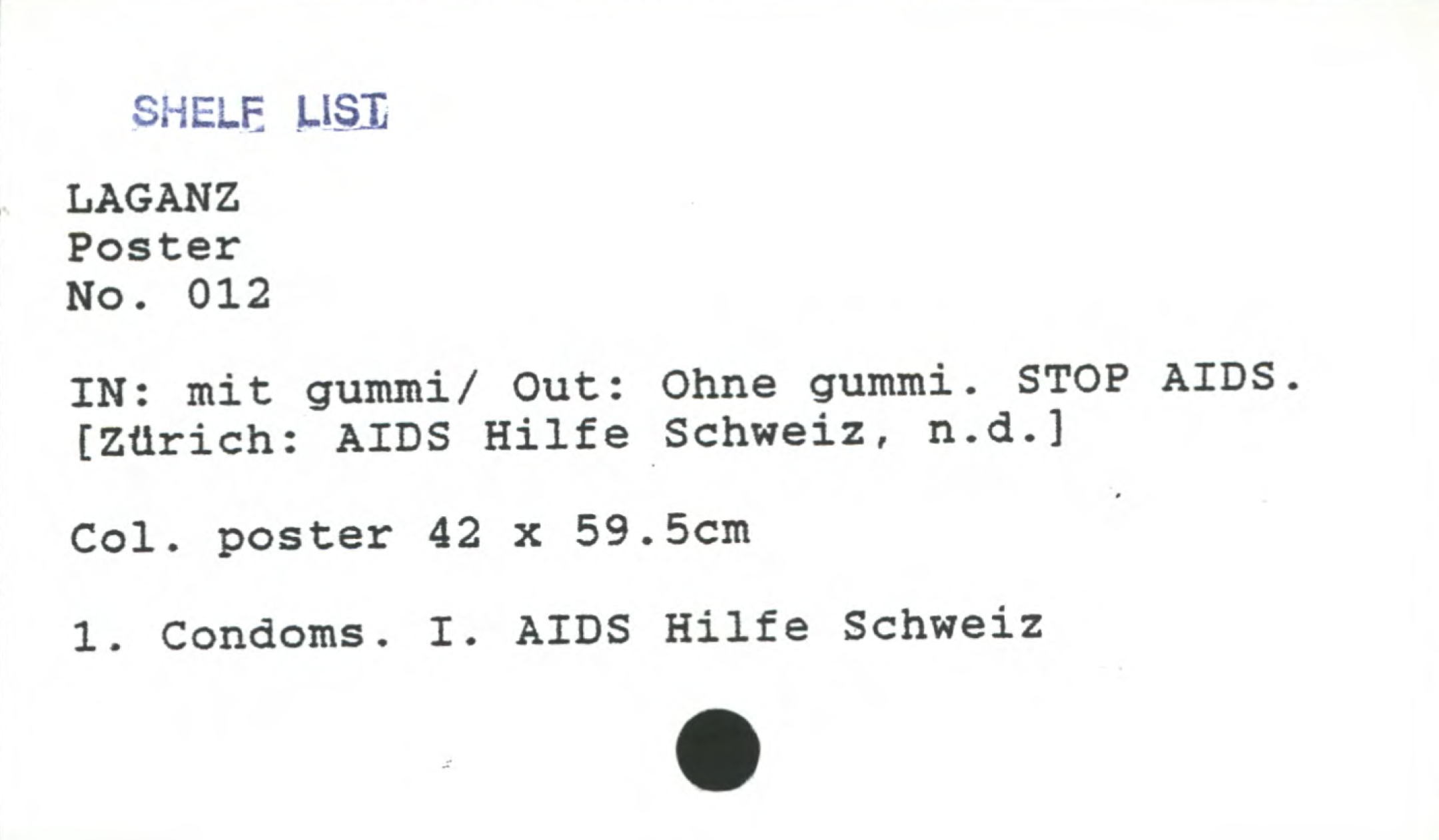 The optical character recognition (OCR) of the image is not perfect.
There are corrections and formatting changes required to the text that the OCR process has extracted ...
SHELf: J_l§.1;
LAGANZ
Poster
I
No. 012
IN: mit gummi/ Out: Ohne gumrni. STOP AIDS.
[Zttrich: AIDS Hilfe Schweiz, n.d.]
Col. poster 42 x 59.5cm
1. Condoms. I. AIDS Hilfe Schweiz • I
.. so that we end up with corrected text looking like this:
LAGANZ Poster 0012

IN: mit gummi/ Out: Ohne gummi. STOP AIDS.
[Zürich: AIDS Hilfe Schweiz, n.d.]
Col. poster 42 x 59.5cm

1. Condoms.
I. AIDS Hilfe Schweiz.
Your help with checking that what you see on the card is transcribed correctly will make a tremendous difference!
Contact for Assistance
Feel free to make personal contact with Gavin Hamilton - gavin.laganz@gmail.com, +64 21 0200 7913 - to find out more about this activity or to ask for guidance.
If you are not already signed up, we encourage you to sign up to both of these mailing lists:.